June 2023
Interviewed by Dr. Ashley Flanagan
Ashley (he/him) is of settler descent, living in Winnipeg – Treaty One territory. He recently became Rainbow Resource Centre's first Director of Advocacy. Due to the recent rise in anti-queer rhetoric, you're likely to see him in the media these days championing queer rights. But, behind the scenes, he oversees the education and communications teams as Rainbow builds Place of Pride, the new queer campus at 545 Broadway that will include Canada's first affordable housing for 2SLGBTQ+ older adults.
Q: Could you please share more about the Rainbow Resource Centre and your role as the Director of Advocacy? 
In 1973, a University of Manitoba gay social club rebranded itself as Gays For Equality (GFE), pivoting to an activism agenda and beginning the fight for equal rights in Manitoba. The student group would be at the front lines of many early battles for rights, and through the years, GFE's various spaces became a sanctuary providing access to peer support, resources, and a sense of community.
Fifty years later, that little student group is Rainbow Resource Centre – now Canada's longest continuously serving queer and trans community centre. Around 17 full-time staff and a whole team of volunteers support the 4,000+ people who come through our door every year. Bookended by our youth and older adult programs, our services include counselling, education, GSA consultation, and various volunteer-led community groups.
In May 2023, we moved into our new permanent home at 545 Broadway. Soon to be a complete campus of queer services called Place of Pride, this site will include administrative space, purpose-built programming and cultural space, retail space, a garden, and Canada's first affordable housing for 2SLGBTQ+ older adults. Though an active construction site, we hope to expand into the new building in 2025.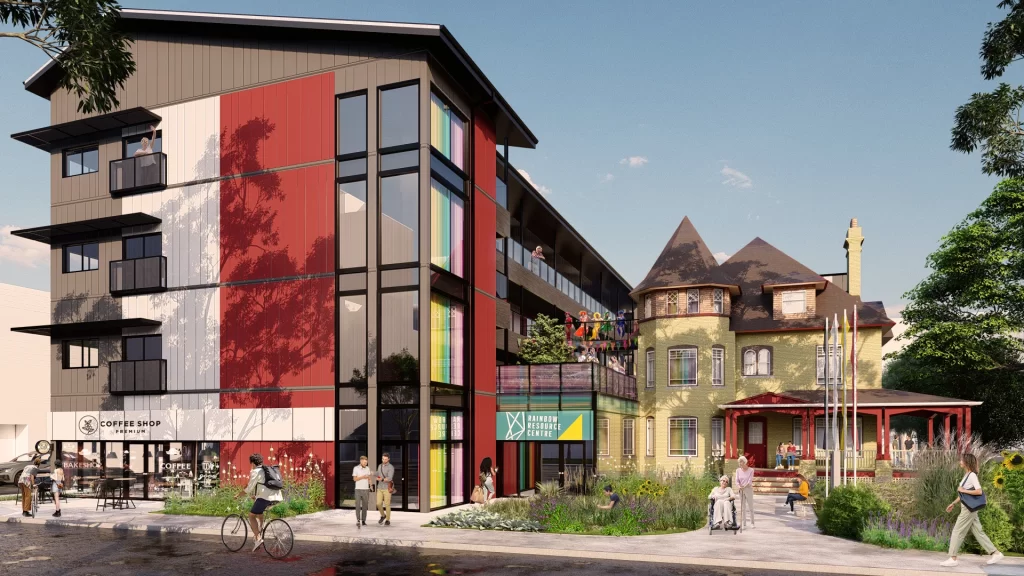 Working at Rainbow is a dream job. We just celebrated Winnipeg Pride last week, and as I settle back into my routine, overseeing communications and education, I feel blessed to do such creative, fulfilling work.
For the last few years, as the Older Adult Program Coordinator, I developed Rainbow's then-new full-time program for 2SLGBTQ+ 55+-year-olds, Over The Rainbow (OTR). In my time, the number of program participants more than doubled, with a mix of virtual and in-person programming happening almost daily. Through the pandemic, we created friendships and security for many who felt disenfranchised from the queer community – feeling either aged out or coming out late. And as we emerged from the pandemic, we'd clearly created something special.
This spring, Rainbow committed to a new chapter: being more vocal in the media, developing our campus of queer services, and re-vamping how we deliver education. So, this is the start of an exciting chapter for us, and as Rainbow's first Director of Advocacy, I'm flexing my background in community relations, communications, education, and 2SLGBTQ+ advocacy.
Q: In your experience, what are some of the most pressing issues that affect the well-being and rights of older 2SLGBTQ+ individuals and what are you doing to address them?
Having had, over the years, deeply personal conversations with 2SLGBTQ+ older adults, I know most fear the uncertainty of what's coming up as they begin health journeys. It all starts with a fear of returning to the closet to ensure they receive the care they're entitled to. While some boldly aver, "I refuse to go back in the closet," many grumble, "I may have to if I want to eat."
For fear of discrimination, many are reluctant to access the services designed to care for them. Who can they turn to for support when they are most vulnerable? Most live alone, have no children, and, if lucky, rely on friends of the same age for support. Those they rely on may have economic, mental, and physical limitations. In the end, no one's helping anyone.
But let's say they finally begin a health journey. How often will they need to risk discrimination and hate coming out repeatedly as they navigate the journey for themselves or a partner? No matter what, who, or where you are, all 2SLGBTQ+ people are most vulnerable when accessing care. Due to poor administrative practices and policies, especially shifting from different types of organizations (ie religious based or for-profit), and moving from region to region (urban to rural), with each person you meet on a health journey – and there can be many – there is a risk of discrimination.
Then, once you're ensconced in long-term or palliative care, will there be programming for you – will there be a sense of community? So, the person who dares to enter the system is back to being isolated, perhaps worse off than before.
The work we're doing is to:
increase education for the services, especially related to health, that 2SLGBTQ+ people access,
arm our older adults with the information they need to protect themselves on their health journeys,
and raising the profile of 2SLGBTQ+ older adults in the broader community, enabling them to tell their stories and ensure they're not overlooked or forgotten.
Q: Can you share some examples of the specific advocacy efforts or initiatives that Rainbow Resource Centre undertakes to support the aging 2SLGBTQ community?
First, through the success of OTR, we created a sense of community for our older adults. Our programming focusses on health and wellness seminars, including opportunities to talk about their rights and self-advocacy, and to also plan for later life. We work with some of Canada's top resource developers and engage them in conversations about general health and mental health, housing, advanced care planning, end-of-life, and grief. As well as financial and technical literacy. We recognize they may live alone, may have barriers that prevent them accessing proper health care, and may have limited resources to support themselves – we're working to ensure they're supported as much as possible by creating a community for them to come to and learn from. In short, it takes a village … so we're building one.
Next, we're seeing a significant shift in Manitoba towards more organizations "doing the work" to be inclusive and affirming. The number of groups taking our DEI/GSA workshops and consultations last year is just shy of the two previous years combined. Thanks to virtual learning, we've doubled the number of attendees compared to our pre-pandemic, in-person workshops. 
Yes, that's great news, but it's time to rethink how we deliver our education. 
As we penetrate the health and care sectors, intending to educate teams of hundreds at a time, from front-line workers to specialists to janitors, we can no longer rely on boardroom presentations, and Zoom presentations to that many people are ineffective. To meet that demand, we're collaborating with learning management system experts to create top-quality professional development courses so massive teams can take classes at their own pace and receive proper professional accreditation – no facilitator required.
As we move to this new "passive" education, we are committed to ensuring the "human touch" remains. We want to underline that DEI training isn't just checking a box – it's a matter of life and death for some people. We will continue to coordinate group virtual Q&A sessions, personalized administrative consultations, corporate rallies, and annually updated training modules. This new process ensures we can deliver quality, dynamic material while freeing our educators to create more content. It's an exciting new chapter for our education team, which has provided DEI presentations in one way or another since the 1990s.  
And, to raise the profile of queer/trans older adults, we have an exciting line up of projects, such as a recent partnership with the Manitoba Museum, with whom we created "If These Walls Could Talk: 50 years of 2SLGBTQ+ activism in Winnipeg." The first of its kind in Winnipeg, this exhibit uses public posters and other calls to action to tell a powerful story about the generation who fought for the rights we have today. The exhibition launched to much fanfare on May 26, with all provincial parties and various local government officials mixing with a veritable who's-who of local queer history. Through the remainder of the year, the ongoing marketing strategy enables us to give a voice to and raise awareness of the issues faced by Winnipeg's 2SLGBTQ+ older adults. 
All of these initiatives are just the beginning, I'm only getting started. While laws have been passed that protect queer rights, the real work lies in changing the hearts and minds of the community. Our mission is to ensure 2SLGBTQ+ people – of all ages – thrive.
Q: What advice would you give to individuals or communities who want to support and advocate for the rights and inclusivity of older 2SLGBTQ individuals in their own regions or organizations?
Start now. Nobody's getting any younger.
If you're an individual, know that there are queer 2SLGBTQ+ older adults all around that need your support. Ask them how they're doing, be a good neighbor. Ask them their story, listen. Include them in your community, be supportive. But, most of all, with all the anti-queer and anti-trans rhetoric in the news, make sure you check in – they're watching all the work of their fight for rights being tested every day.
If you're an organization that supports older adults, start by admitting you have queer/trans clients. If you don't think you have patients or clients that are queer, it's because they don't feel safe living authentically with you. If you're in the long-term care or community living setting, consider creating space for queer/trans people to meet for coffee. Have a drag performance. Watch a movie with a queer storyline every once in a while. Insist staff where pronoun pins. But be intentional about it. Consult with 2SLGBTQ+ resource centres to ensure you're doing it right and feel supported if it goes wrong. And be ready for the next 2SLGBTQ+ older adult to walk through your front door. 
Q: How can people get in touch with you or learn more about Rainbow Resource Centre?
Feel free to shoot me an email at ashleys@rainbowresourcecentre.org. And drop by our website to learn more about our history and future, www.rainbowresourcecentre.org.